WE PRODUCE
EXCEPTIONAL HARDBOUND
ARCHIVAL PHOTO BOOKS
Our 11x12 landscape books are archival for 400 years and have elegant design and exceptional color quality. Printed on museum rag paper.
IT STARTS WITH
SCANNING & COLOR RESTORE
Scanning requires professional skills and decades of experience to deliver exceptional color quality for printed books. We scan each photo or document and spend time to get color and tonal quality right. Scan can be done on all sizes of slides, negatives, photos and documents. The photo of my little brother and the cowboy was scanned from a 35mm Kodachrome slide at a 16x20 resolution. We're the best at delivering advanced color quality by spending time optimizing each scan.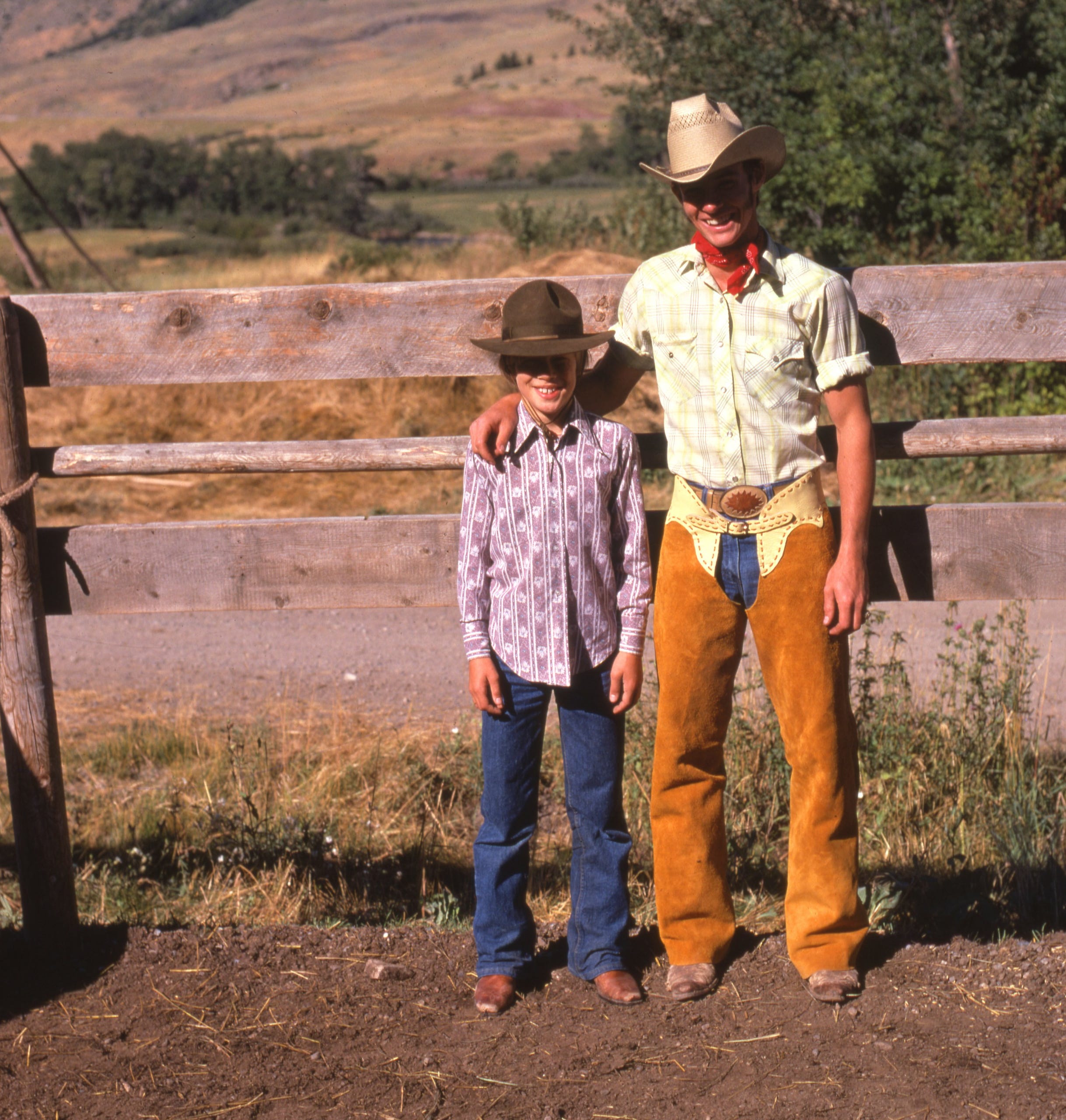 WE THEN ADD IN-DEPTH
STORY TEXT TO PHOTOS
TO CREATE EXCEPTIONAL
PAGE DESIGNS FOR BOOKS
Here's a sample of one of the elegant double page spread design approaches we offer to capture moments in life with photos and written stories in book form.
BOOK
PAGE DESIGN
LEFT
Sometimes one image can capture the feel of years of living. One of our philosophies with book design is that bigger is better and less is more.

Here one photograph of my little brother at age 8 is printed at a 10x12 size on the left hand side of a double page spread. Versus including many photographs of my brother on this page, this one captures many dimensions of our family life together, for a decade, by using only one photograph.
BOOK
PAGE DESIGN
RIGHT
One of the most important things we offer in book design is encouraging people to write significant stories that capture a unique thought or moment in life. Here, that writing is placed elegantly on the right hand side of a double page spread in the book.

Working with you as editors, our goal is to help you succeed on each page of writing and guide you on the conceptual options for each written page, sometimes line by line. This creative relationship with you, to establish a production team, gives you a chance to create a much more meaningful book for generations to come. Books with more significant written stories leave behind an intimate in-depth record of moments in your life.
OPTIONAL PROFESSIONAL
PHOTO / DOCUMENT RESTORATION
Our skills can be tapped to make every photo or document all it can be in printed form.
PROBLEM -
PHOTO CRACKS
This photograph had both cracks and image grit on the soldier's face. The overall tonal quality and color was very good.
RESTORED -
PHOTO CRACKS
A good photograph is restored to original form, with no cracks and smooth and pleasing flesh tones. A 1-hour restore project.
PROBLEM -
COLOR FADING
Severe color fading like this is caused by other items on top of the photograph blocking sunlight over a long period of time. In this case the photo had a book and newspaper on top of it for many years. The color information is still there but needs to be extracted via advanced digital color science techniques.
RESTORED -
COLOR FADING
There were about 25 steps to extracting color and restoring the tonal range of this photograph. Layers are stacked to take dim color information that is then gradually built to a near-original form. The large black areas, where the books were on top, are relatively easy to correct. The most difficult part of this project was to build accurate flesh tones with facial structure and contour. The information is there to do this, but it takes great skill, patients and a lot of time. This project took 6 hours to complete.
PROBLEM -
IMAGE AGING
This is a detail of a much larger photograph that came to us in pieces. The photograph parts were scanned individually then pieced together digitally to match the correct position.
RESTORED -
IMAGE AGING
We then copied similar areas of the photos and cut and pasted to fill in missing areas. For instance, the shutters on the front of the building at the top left were rebuilt by copying the single right hand shutter then flipping it horizontally to begin to create the left hand shutter. This is meticulous work and demands a lot of creative approaches and techniques to complete. Total time on this project was 10 hours.
WE DO ALL
PRODUCTION
AT OUR FACILITY
IN PITTSBURGH PA
SCANNING / RESTORATION / DESIGN / PRINTING / BINDING
300-YEAR ARCHIVAL
FAMILY HISTORY BOOK
PRODUCTION
What if you could see the photographic history and writings of your ancestors from 1719?

What if you could do this for your family members to live life through your eyes in 2319?

WELL NOW YOU CAN



CALL FOR FREE APPOINTMENT
412 . 275 . 7174
SHARE YOUR IDEAS FOR YOUR BOOK